2012 Porsche 911 Black Edition Cabriolet with an amazingly low 33K miles. Equipped with the famous dual clutch PDK transmission with paddle shifters (7 speed). Sport Chrono Package, Sport Plus Mode, Launch Mode, Heated Seats, Navigation, Black on Black, Factory turbo wheels, Wind Screen. The black edition was a limited-edition model with a total of 1911 made in 2012. Originally, approximately 25% were to be shipped to the United States.  Our research leads us to believe that approximately 400 made it to the USA making this a rare car in the states. Car has been professionally detailed including buffing, and ceramic coat applied. 

Please call (210) 7106305 for additional information
 email me at: charles@vintagetexaspaintings.com
The car is in secure inside storage. Housed in San Antonio TX. Rare Black Edition 911 Carrera 33,000 miles.
The following state was from Road & Track in 2012
2012 Porsche
911 
"Black Edition"
Cabriolet
33,000 MILES
  If an entry-level special-edition 911 floats your boat, hopefully you like black. JENS MEINERS PUBLISHED: JAN 24, 2011  As the Porsche 997 is entering the autumn of its life cycle—we expect its successor, the 991, to debut this September at the Frankfurt auto show—the marketing team in Stuttgart-Zuffenhausen still is coming up with ways to keep the current model attractive. The last few variations on the 911—including the GTS and Speedster—were positioned at the top of the model range. The 911 Black Edition follows a vastly different approach: Available as a coupe and cabriolet, it comes only with rear-wheel drive and the standard 345-hp engine. At a base price of $82,250, the Black Edition coupe carries a $3500 premium over the barest of all 911s; the cabrio's sticker of $92,250 represents a $2500 uptick. Like the GTS, the Black Edition adds more extra equipment than its additional cost would otherwise cover. Normally a $2440 option, 19-inch Turbo II wheels are included in the purchase. Also on the house are the Bose surround sound and a navigation system, plus a few other trinkets. Altogether, the extras in the Black Edition are worth about $10,000.Just Like the Model TAppropriately, this 911 is available in any color as long as it's black: standard black or $710 Basalt Black Metallic, to be precise. Even the brake calipers are black. Black Edition plaques adorn the door sills and glove box, and "aluminum look" (read: plastic) decorative panels are affixed to the dashboard and center console.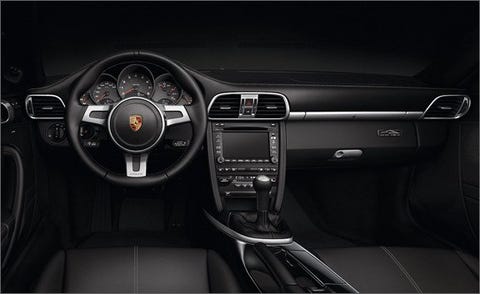 If you hear "base engine" and think "bummer," a turn behind the wheel will change your mind. Coupled with one of the best manual transmissions on the road today, the 345-hp, 3.6-liter flat-six should storm to 60 mph in under 4.5 seconds; with the optional PDK dual-clutch transmission, we've clocked a rear-drive 911 to the mile-a-minute mark in just 4.1 seconds. On PDK cars, the optional Sport Chrono package will shave some time from acceleration runs thanks to its launch-control function. Top speed is said to be 180 mph with the manual, 178 with PDK.  Porsche will build exactly 1911 Black Editions, of which about 25 percent are headed to the U.S. If you are in the market for a 997 and want a black one, this is one of the smartest choices out there.  PLEASE FEEL FREE TO FORWARD THIS EMAIL TO FRIENDS THAT MIGHT HAVE IN INTEREST IN THE CAR.  charles@vintagetexaspaintings.com (210) 7106305